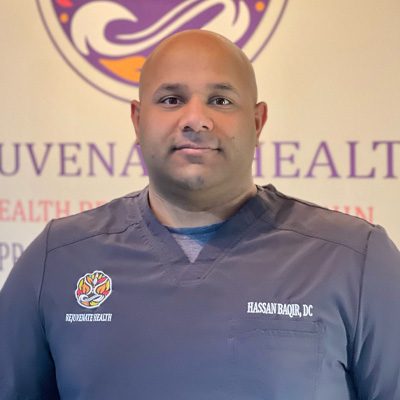 Chiropractor
Hassan Baqir D.C.
Dr. Hassan is passionate about helping his patients reach their optimal health through natural approaches such as chiropractic, exercise, and nutrition. He enjoys working with patients of all age groups and lifestyles.
Education: Palmer College of Chiropractic, University of Illinois - Chicago
He can work with and help a wide variety of patients, from high-level athletes to newborn babies. Dr. Hassan encourages a multi-disciplinary approach to healthcare and works closely with several primary care physicians, orthopedic doctors, and neurosurgeons in the surrounding community.
Dr. Hassan was born in Pakistan, raised in the Chicago suburbs. He is a die hard Bears fan and loves to watch them play. In his spare time, Dr. Hassan enjoys spending time with his family, playing cricket, and being an aquarist.
Whether you have a new injury or are growing frustrated with an old one, you can rest assured that Dr. Hassan will do all of the necessary tests and treatment to get you back to functioning at your highest level.
Registered Nurse
Alvin Ibalio
Alvin has worked as a nurse for over 20 years. His experience in the medical field has made him an asset to the Rejuvenate health team. Alvin has amazing interpersonal skills and interacts with everyone on many levels. He shows genuine interest and concern for our patients as well as the team.
Alvin wears multiple hats in the clinic such as clinic coordinator, rehab specialist, social media manager, etc but never forgets that our patients come first.
Outside of Rejuvenate health, Alvin enjoys playing Picklebal. He also enjoys watching movies and listening to music. Alvin is a pop culture knowledge bank. This makes him the most interesting man in his world.
Health & Wellness Coach and Yoga Teacher
Katie Sayad
Katie is a certified Health & Wellness Coach and Yoga Teacher. Her mission is to improve the health and well-being of others by cleansing the body and mind for a powerful reset through nutrition and lifestyle changes. This approach is to help those uncover their healthiest, most authentic selves and propel them forward on a more freeing, conscious, and compassionate path.
Katie loves sharing incredibly cool and alternative tools and practices to help busy and burnt-out professionals fall back in love with themselves and with life by connecting deeply within. She shares her unique gifts through the specialized lifestyle reset program at Rejuvenate Health.
Outside of Katie's professional life, you can find traveling to exotic places around the globe with her fiance, camping, hiking, and roughing it in the natural world, crafting healthy recipes, or cozying up with her cat, Caribou, to a good book.
OFFICE HOURS
---
Monday
4:00pm - 8:00pm

---
Tuesday
4:00pm - 8:00pm
---
Wednesday
4:00pm - 8:00pm
---
Thursday
4:00pm - 8:00pm
---
Friday
Closed
---
Saturday
8:00am - 12:00pm
---
Sunday
Closed
534 Chestnut Street Basement Level
Hinsdale, IL 60521
P: (630) 425-4040
F: (630) 655-7425